DESIGN
Megha GRP employs graduate and post graduate engineers fully competent in the design and structural analysis of composite equipment, using computer aided design and finite element analyses to assure that the equipment to be produced will meet the project requirements.
DRAFTING
Before any fabrication begins, detailed drawings are submitted for approval and must be approved by the customer to avoid any misunderstandings.
FIELD INSTALLATION
For large field tanks, duct systems and piping installations, Megha GRP sends crews around the world to provide field installation services.
ENGINEERING SERVICES
With its technical department "Design, Quality Control, Process and Field Services" capabilities and experience, and with its engineering staff (more than 20 engineers), MFGIL-GRP can provide its customer engineering services starting at the early stages of the project.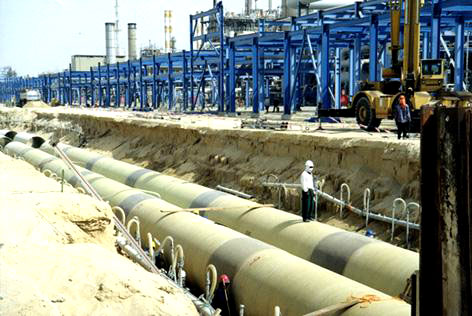 Integrated Manufacturing and Design Advantages: MFGIL-GRP has an added advantage of having designing group along with manufacturing unit of GRP piping system. Having the design facility in consultation with field services workforce, which monitor the installation of GRP piping systems provides the feedback needed to improve the design and incorporate the difficulties faced by customers, so as to have continuous improvement in design. Moreover, production difficulties encountered along with effective quality system provides necessary input to design so as to take into account the variations and make necessary changes to the GRP product design to provide economical / reliable product which meets the customer requirement.
Having more than two years experiences in wide variety of GRP applications, MFGIL GRP can provide the following list of Engineering Services to its customers.